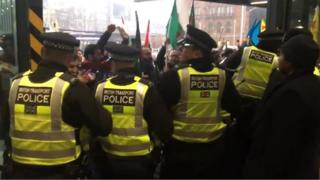 Pro-Kurdish demonstrators have caused delays and disruption at major railway stations in London and Manchester.
Police were forced to close Manchester Piccadilly after people stormed the station and climbed on to the tracks.
Within hours, King's Cross was shut down to stop protesters getting on the tracks. Both stations have reopened.
Demonstrators are protesting against Turkey's military offensive on the Kurdish-controlled town of Afrin in Syria.
Further protests have been held across Europe.
At Dusseldorf airport, pro-Kurdish protesters clashed with Turks and German police, leaving several people injured, said Agence France Presse.
Police there reportedly used pepper spray against some demonstrators.
'Mother's Day ruined'
In Manchester, there was huge frustration among travellers after one of the country's busiest stations was closed for three hours, causing trains to be cancelled and long delays for travellers.
Amaya Kourtney tweeted the "ridiculous" protests had delayed her Leeds-to-Liverpool train and "ruined Mother's Day".
Mel Blockley tweeted she was stuck at Manchester Oxford Street station trying to get home to see her son.
One activist told the BBC the protest was over the "British government's silence" over the Afrin region.
"They haven't defended the people of Afrin," she said.
"Thousands of people are being killed and the Turkish troops are getting closer and closer to the city centre."
Another apologised for people being delayed but said "innocent people are being killed".
Superintendent Mark Cleland from British Transport Police said: "While we appreciate and respect the right to peaceful protest, when this compromises the safety of the public and the protesters themselves, any offenders will attract the full investigative resources of BTP."
Those involved would be investigated with a view to arrest and prosecution, he added.
In London, protesters gathered outside Downing Street.
Their route – from King's Cross to Whitehall – blocked Euston Road briefly, caused disruption around Piccadilly and Trafalgar Square and led to the brief closure of Oxford Circus Tube station.
National Rail said King's Cross has fully re-opened but trains to and from there may still be delayed or revised as the service recovers.
A spokesman for British Transport Police said: "Officers were in attendance at London King's Cross station where they responded to a number of protesters attempting to enter the station at around 17:00 GMT.
"Colleagues from the Metropolitan Police Service assisted and protesters were prevented from accessing the tracks."